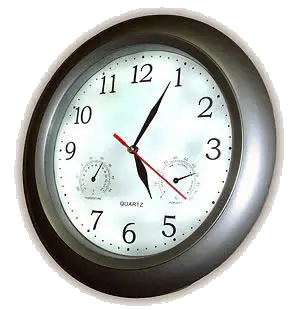 How to tell the time in English?
There are two common ways of telling the time in English. For
2:40
you can use one of these two ways.
Digital

: the easier way - "

Two forty

"

Classical

: you say the minutes first then the hour - "

twenty to three

"
Here are the different ways to ask for and tell the time.
Asking about the time:
What

time is it?

time do you make it?

's the time?

Have you got

the right time?
Telling the time:
| Digital | It's ... | It's ... |
| --- | --- | --- |
| | two o'clock | two |
| | | two oh six |
| | | two oh nine |
| | | two twelve |
| | | two fifteen |
| | | two twenty |
| | | two twenty-five |
| | | two thirty |
| | | two thirty-five |
| | | two forty |
| | | two forty-five |
| | | two fifty |
| | | two fifty-five |
| | | two fifty-seven |
| | nearly three o'clock | two fifty-eight |
| | three o'clock | three |
Example:
| | |
| --- | --- |
| Question: | What's the time, please? |
| Answer: | It's two o'clock. |