There are many adjectives that we have in English that end in -ED or -ING.
Yes, that's correct, they are not only endings that we use for verbs!
An adjective that ends in -ING is used to describe: the characteristic of a person, a thing or a situation.
An adjective that ends in -ED is used to describe: a feeling (or how a person feels) or an emotion. It is used to describe a temporary thing. Since only people (and some animals) have feelings, -ed adjectives cannot be used to describe an object or situation.
Compare the difference:
My girlfriend is bored. - (My girlfriend feels bored)

My girlfriend is boring. - (My girlfriend is a boring person)
You can use these adjectives to describe people or situations but be careful that you are using the correct adjective. For example, there is a big difference in meaning between:
I am confused. - (I don't understand something)
I am confusing. - (I will cause you to be confused)
Note that the sentences below are to highlight the difference between the two types of adjectives. They are NOT common to do or say because they sound repetitive.
I was shocked by how shocking the accident was last night.
They were frightened by the frightening roller-coaster ride!
I am annoyed by how annoying that person in front of us is.
Sally was confused by the confusing street signs in the city.
Example sentences of adjectives ending in -ED and -ING
This grammar lesson is boring. I am bored reading all about these grammar rules.
I am tired right now. My flight was tiring (because it was a twelve-hour flight).
Public toilets are usually disgusting. I am disgusted by the smell in some of them.
Your speech was very inspiring. I am now inspired to do wonderful things with my life.
Also see our article about the Pronunciation of words ending in -ED.
Summary chart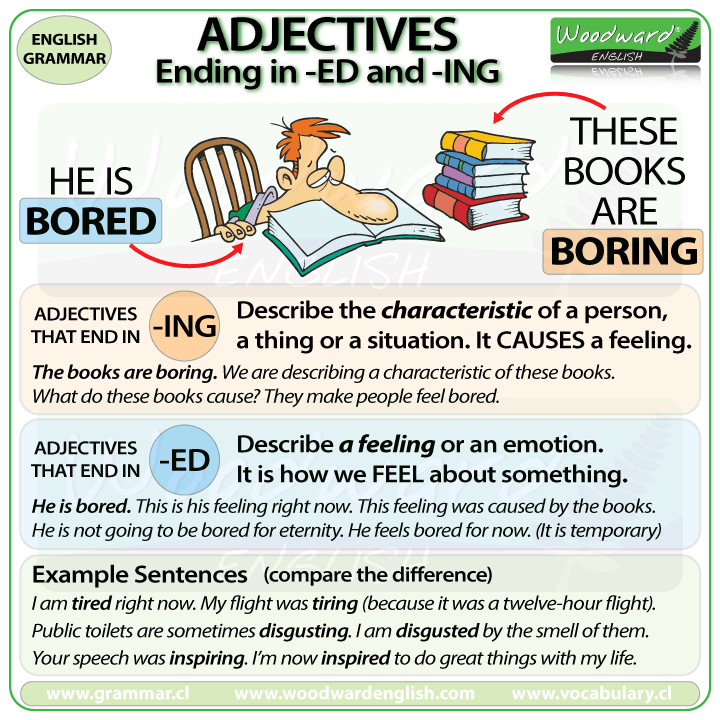 List of Adjectives ending in -ED and -ING
There is quite a long list of adjectives ending in -ED and -ING in English, and most of them are based on a verb that can be changed into an adjective by adding either -ED or -ING.
Some of the more common ones include:
Alarmed - Alarming
Aggravated - Aggravating
Amused - Amusing
Annoyed - Annoying
Astonished - Astonishing
Astounded - Astounding
Bored - Boring
Captivated - Captivating
Challenged - Challenging
Charmed - Charming
Comforted - Comforting
Confused - Confusing
Convinced - Convincing
Depressed - Depressing
Disappointed - Disappointing
Discouraged - Discouraging
Disgusted - Disgusting
Distressed - Distressing
Disturbed - Disturbing
Embarrassed - Embarrassing
Encouraged - Encouraging
Entertained - Entertaining
Excited - Exciting
Exhausted - Exhausting
Fascinated - Fascinating
Frightened - Frightening
Frustrated - Frustrating
Fulfilled - Fulfilling
Gratified - Gratifying
Inspired - Inspiring
Insulted - Insulting
Interested - Interesting
Moved - Moving
Overwhelmed - Overwhelming
Perplexed - Perplexing
Pleased - Pleasing
Relaxed - Relaxing
Relieved - Relieving
Satisfied - Satisfying
Shocked - Shocking
Sickened - Sickening
Soothed - Soothing
Surprised - Surprising
Tempted - Tempting
Terrified - Terrifying
Threatened - Threatening
Thrilled - Thrilling
Tired - Tiring
Touched - Touching
Troubled - Troubling
Unsettled - Unsettling
Worried - Worrying