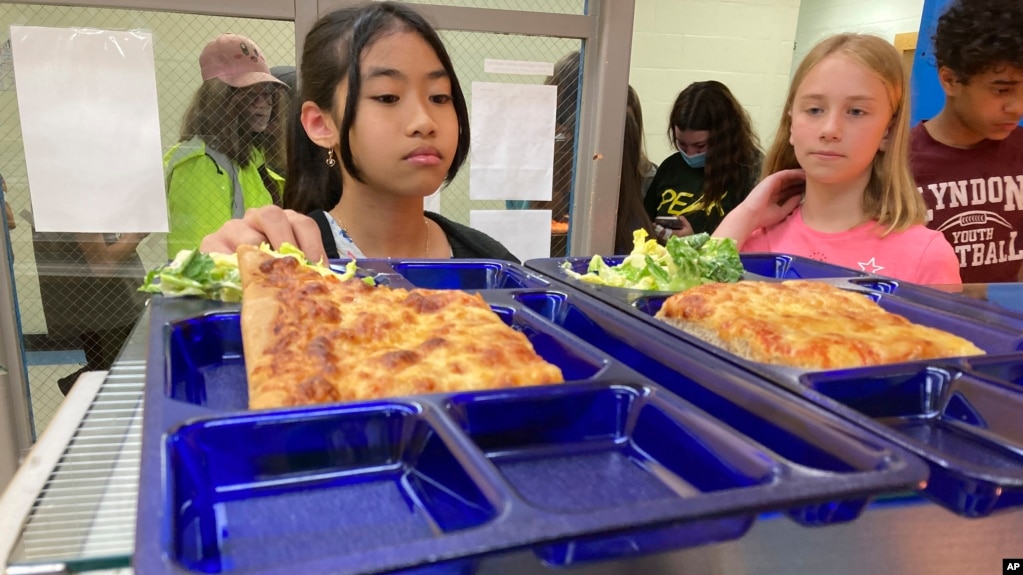 Students get lunch at the Albert D. Lawton Intermediate School, in Essex Junction, Vt., June 9, 2022. The pandemic-era federal aid that made school meals available for free to all public school students — regardless of family income levels — is ending. (AP Photo/Lisa Rathke)
As gas and food prices rise in the United States, some families are worried about having to pay for something else in the fall: lunch for their children at school.
For at least the last two school years, many parents did not have to worry about preparing or buying their school-aged children lunch. That is because emergency government funding during the early part of the coronavirus pandemic included food aid for children. The aid covered lunch for children during the school year and during the summer for many families.
But the free lunch funding is set to end in several states before the start of the next school year.
Before the pandemic, Kate Murphy of Vermont and her family did not have enough money to pay for their four children to buy lunch at school. Instead, they purchased lunch foods in large amounts and sent their children to school with food each morning.
But when the pandemic hit, the U.S. government made lunch money available to most schools. The support came at a critical time for the Murphy family, because Kate's husband had lost his job. Because of the free lunch program, the Murphys had one less financial concern.
But now the family may have to worry about lunch again. Murphy said her family earns a bit too much money to qualify for free lunches based on the old program's income rules.
Experts say the end of the school lunch aid and other programs that helped families save money means more will have to get help from food banks. Food banks provide meals and food for no cost to families and individuals in need.
Vince Hall is a government relations officer for Feeding America, a group of food banks across the U.S. He said many families are now "facing a very difficult reality of having to choose between feeding their kids or filling up their gas tanks or purchasing medicine."
The U.S. Agriculture Department oversees the school meal program. Cindy Long is an administrator for the department's Food and Nutrition Service. She said that, during the pandemic, the number of children getting free meals increased from 20 million to 30 million.
A summer meal program in 2020 gave out 1.3 billion meals and snacks. The total cost was $4.1 billion. That was eight times greater than program costs from a year earlier.
President Joe Biden recently signed a bill that should keep summer meal programs running in the same way they did during the first two summers of the pandemic.
Some states are using their own money to make the free meals permanent. California and Maine did that last year. Massachusetts and Colorado are working on state proposals that would provide food aid for at least one more school year.
Vermont, where the Murphy family lives, said it would use extra money in the education budget to fund food aid for the upcoming year.
"Our kids have so much to worry about these days, and food shouldn't be one of them," Kate Murphy said.
On a recent day at the Albert D. Lawton school in Vermont, students ate pizza and salad with their friends. One student, Ethan Pringle, said it is hard to learn when you feel hungry.
"Not everybody has the same situation at home," he said. "So I think free lunch, it makes it easier for everybody."
I'm Dan Friedell.
Dan Friedell adapted this story for Learning English based on a report by the Associated Press.
Write to us in the Comments Section and visit our Facebook page.
________________________________________________________________________
Words in This Story
funding– n. money that usually comes from an outside source to pay for something
qualify –v. to have the right to do something
income – n. the amount of money earned for a job or from investments
snack – n. a small amount of food usually eaten outside of regular meal times