Ukraine's president says more than 130 people have been killed and that the country had been 'left alone to defend our state' as invasion enters day two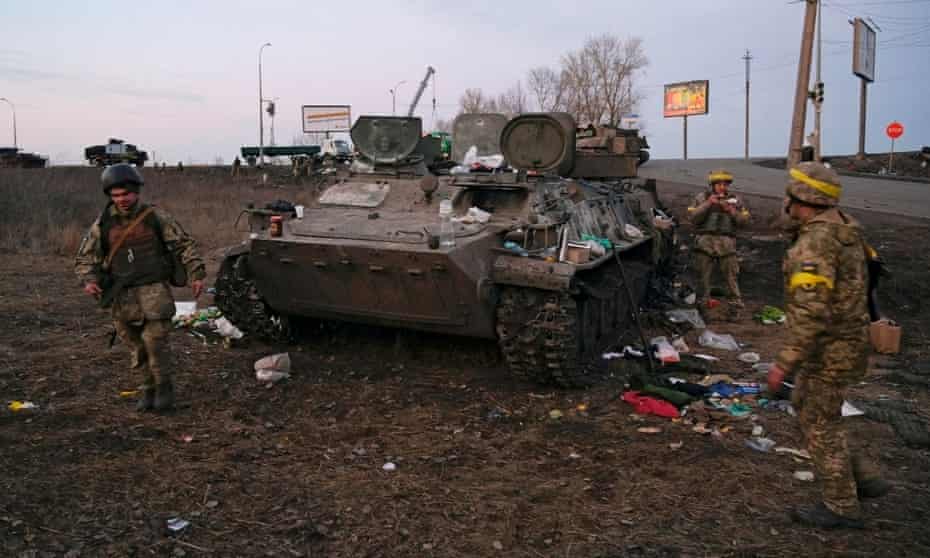 Ukrainian servicemen are seen next to a destroyed armoured vehicle, which they said belongs to the Russian army, outside Kharkiv, Ukraine, on Thursday.

Photograph: Maksim Levin/Reuters
Explosions rocked Kyiv in the early hours of Friday, with Ukraine claiming it had shot down a Russian military aircraft that was flying over the capital. The interior ministry said a residential tower block had been set on fire by the falling debris.

US secretary of state Antony Blinken warned that "all evidence suggests that Russia intends to encircle and threaten" the city. Russian troops entered the country from the north, east and south on Thursday.

US defence secretary Lloyd Austin has said Russian mechanised forces were about 20 miles (32km) from Kyiv. Associated Press reported he made the comments in a cxall to US lawmakers.

Ukrainian president Volodymyr Zelenskiy said 137 people inside Ukraine had died and 316 had been wounded as a result of Russia's invasion and military attacks. In a video address late on Thursday, the Ukrainian leader said he was disheartened after speaking to the leaders of Nato member states after the invasion began. "We have been left alone to defend our state. Who is ready to fight alongside us? I don't see anyone," he said.
Russian troops have seized the Chernobyl nuclear power plant in the north of Ukraine and there were credible reports they were holding staff there hostage, the White House said.

A fierce battle for the strategic airbase close to Kyiv appeared to be continuing late on Thursday. Additionally, every soldier defending Zmiinyi Island, or Snake Island, in the Black Sea had died, Zelenskiy said.

Ukraine has decreed a full military mobilisation against the Russian invasion. Ukrainian men aged 18-60 are now forbidden from leaving Ukraine. Zelenskiy has declared martial law.

Zelenskiy says he will remain in Kyiv, despite saying that he was Russia's primary target. "We are not afraid. We are not afraid of anything," he said.

Thousands attempted to flee Kyiv, leading to large traffic queues. Pictures have emerged of Kyiv residents crowding into underground metro stations where they are taking shelter from further Russian attacks.

Anti-war protests have attracted thousands of Russians in cities across the country, with local authorities swiftly cracking down on the unsanctioned rallies. Police had made at least 1,702 arrests in 53 Russian cities.

US president Joe Biden and UK prime minister Boris Johnson have imposed more sanctions on Russia, including pushing to end Russia's use of the Swift international payment systems.

Ukraine's foreign minister, Dmytro Kuleba, has voiced his anger as EU heads of state and government appeared to hold back from imposing the potentially most damaging sanction on Russia. Kuleba warned that European and US politicians would have "blood on their hands" if they decided against the sanction.